Onean by Aquila Boards:
Onean by Aquila Surf has been designing electric wakeboards since the beginning of 2013 and has led the marketplace in helping to make the sport affordable to the masses. Already they have helped prices to drop to right at $5k (right after Brexit shocked the price of the Euro in late 2016 they dropped to below $5,000 for the first time ever) shipped to the USA which is one of the least expensive boards I have found while still carrying great specs. They recently launched their first two models (the Carver, designed for those with wakeboarding experience featuring quick speeds and smooth carves and the Manta, built for stability and buoyancy for those preferring a more relaxing adventure) which are now available for third batch pre-order here at www.Onean.com and several were shipped for the 2016 summer season. Other products including the blade will be released in the coming seasons to address more niche needs and different pricing points. They recently released tests on speeds of the Carver board. Currently they reached around 25 mpg with an 175 lb rider in optimal conditions and 22 mph for the same test in choppy waters. Plenty enough to whip you around for a few hours!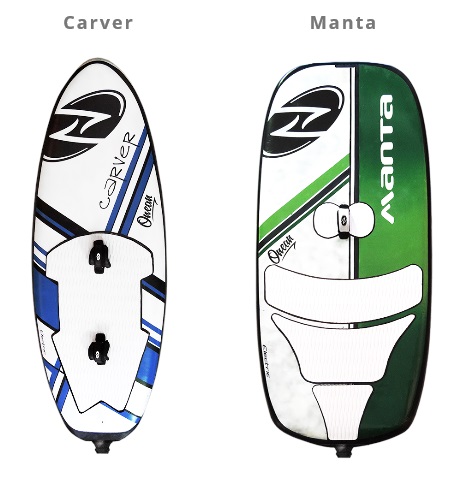 Based in the Basque Country in Spain, Onean is perfectly located in an area with a broad industrial experience and right next door to the sea and the surfing capital of Europe. They are involved in each step of the production process from the electronics to mechanical and industrial design of the propulsion unit. We are looking forward to good things to come from this company!
_____________________________
Radinn Boards:
Next is Radinn Boards located in Sweden. Radinn's vision started with a dream. As a kid Phillip Werner always searched for a home near the water and wished he could ride a wakeboard independent of a boat. That goal led him to develop his company and along with it their first product; the Wakejet Cruise. "We've worked for almost three years on developing the Wakejet. Endless engineering, drawings, tests, – bashing through numerous engines, batteries, jets and boards – the team has now managed to create a complete system ready for production. I started alone as a side-project when studying at Lund University. Along the way I've been lucky enough to meet the exact right people, with the same passion for the product and the competencies needed to bring it to life. It's an amazing feeling to now see this product ready for the market"
If we have learned anything about the Swede's dedication to quality, this brand will leave nothing to envy. It looks like they have designed the Wakejet Cruise in an exhangeable module format. That means in theory you will be able to upgrade the internal electronics down the road as batteries improve or if repairs are needed rather than switching out the entire board. It also carries an SD card with data tracking issues or potential upgrades on deck. The specs show this board can remain buoyant for riders up to 285 lbs and has a top speed of 30 mph with up to a half an hour of ride time before a 2 hour quickcharge is needed.
Though it looks like the first board is coming in at just under $17,000, we have hopes that prices will drop quickly as the sport gains in popularity. The Wakejet Cruise is available in three different colors and has a few free upgrades for those interested in pre-ordering. To get in on the first shipment email america@radinn.com with the subject PRE-ORDER.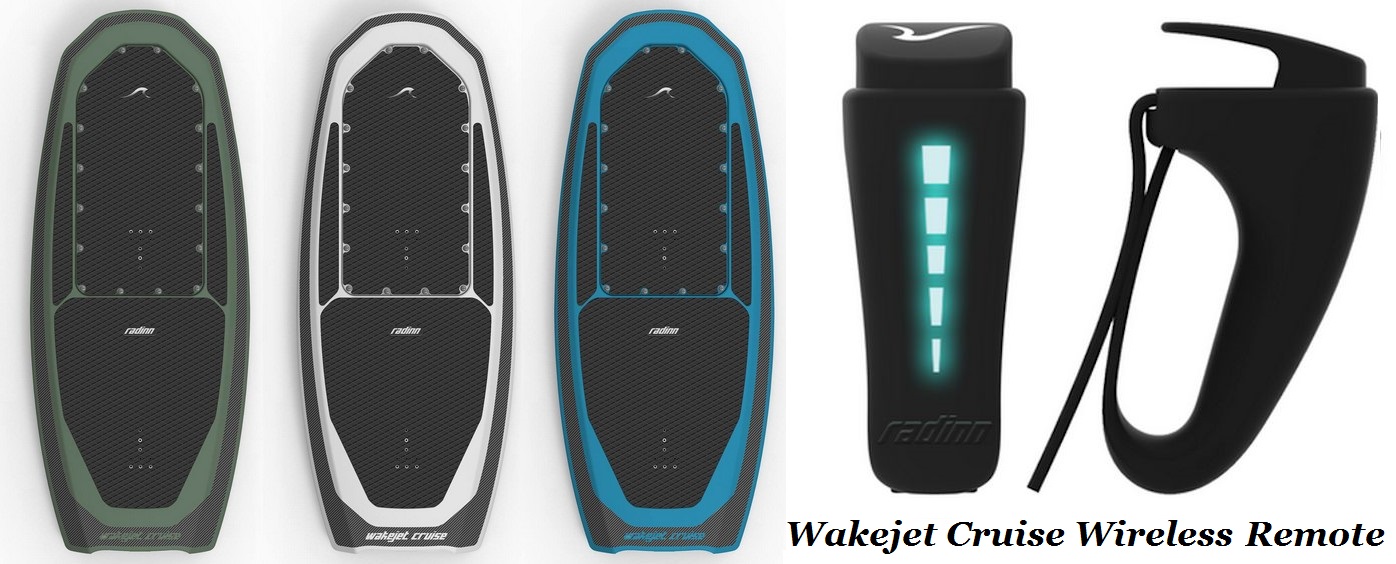 Check out these chill vids below with hip swede lyrics to get a closeup view of Radinn's boards in action:
_____________________________
JetsurfNY:
Finally a distributor based right here in the USA and we are so glad to see it! While these aren't fully electric like the Aquila or Radinn, Jetsurf does make use of "Greentech" technology and what they are calling "zero percent emmisions" which comply with EPA standards for both exhaust and noise emissions. They advertise in their brochures that they consume less gasoline than any other propulsion engine on the market. One of the premier advantages to Jetsurf of New York City is that they are sponsoring test runs throughout the USA for a small fee. What better opportunity to check of some of these boards in action? According to their website, if you are in the North Eastern USA (and as of July it sounds like they are moving more south along the coast down to Florida) you can usually find a test run session near by that will cost you $200 for a 30-45 minute spin around a lake. Also you can lock down a 4 person private session for 2-4 people for $500 (add $100 each for additional people after four). While it sounds like they are planning to open some of these sessions more throughout the mid-west and eventually through Utah, Arizona, Vegas, and California you would have to pay a good chunk of change to get them out there for a spring 2017 run (fingers crossed for later in the season!). To schedule one of these eastern test run sessions or to see where future sessions are planned send them an email at info@jetsurfny.com or call them at 212-951-1171.
The boards specifications themselves seem to be on par if not slightly better than our European companies in regards to power which is mostly due to their gasoline hybrid motor. Also, pricing is a bit higher at the moment but that looks to change as popularity increases. Max speeds on their $9900 Ultra Sport model are 30 MPH while the $11,400 GP100 maxes out at 34 MPH yet sports slightly better fuel efficiency. At only 28 pounds these are very portable which should help getting these out to the lake as frequently as possible. They do have a $12,400 Prorace model designed for professionals but we think these other two models will be more popular for the average wakeboarder. Jetsurf shows that these models are available to ship within one to two months. Check out the "carvability" and the potential air off you can catch on these boards in their promo videos below!